Advocating On Your Behalf From A Position Of Strength And Confidence
The Attorneys of Vincent W. Davis & Associates offer our clients the combination of skill experience and dedication that our clients can rely on during times of real need. We understand how difficult legal matters can turn a person's world upside down in an instant. We are committed to helping people overcome the challenges they are facing. Our goal is to help you to see the future you want and to help you build it. Through strategic analysis and highly effective litigation and negotiation skills, we are able to provide our clients with clear choices and the means to achieve those ends.
Los Angeles Business, Real Estate, Probate, Family, Criminal Defense Lawyers
A legal problem can throw your life into turmoil. The law firm you turn to can make a significant difference in the outcome of your case. Whether you are seeking a visa to live and work in the U.S. legally, are considering filing for divorce, or have been injured in an accident, you will find a passionate advocate at the offices of Vincent W. Davis & Associates. We are your family's total law firm.
Se habla español ▪ Мы Говорим по-Русски ▪ We speak Chinese ▪ We speak Vietnamese ▪ Schedule a consultation ▪ Flexible appointments
We believe in your cause and we believe in your future. Call us toll free at 888-506-6810 or contact us by e-mail to schedule a consultation at one of our convenient offices in the Los Angeles metro region.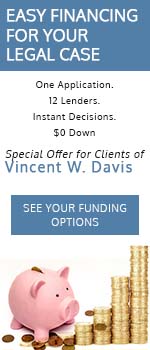 We represent clients in matters involving:
Business and Real Estate Litigation – Experienced, passionate representation for businesses and individuals involved in commercial disputes and litigation, including real estate and development. California Family Law – Our firm is a full-service family law firm. We represent clients going through divorce and we handle issues including child custody and visitation, child support and spousal support and division of property. We also take cases involving domestic violence and paternity. Juvenile Law – We can assist your family with juvenile law matters, such as delinquency cases or child dependency issues. Criminal Defense – Our firm handles a variety of criminal defense cases, including everything from white collar crimes tosex offenses. We also handle violent crimes, drug crimes, property crimes, juvenile law and delinquency. Estate Planning – From drafting your will to helping your family through the probate court process after the death of a loved one, our experience is on your side. Immigration – A full range of individual, family and employment immigration services. We focus on finding creative solutions that get results. Personal Injury – Our firm handles cases involving car accidents and truck accidents that result in serious injuries or wrongful death. Insurance Laws / Claims – Our firm handles cases involving Insurance matters and Insurance claims.
We can help with Personal Injury , Accidents, Juvenile Law, Motorcycle Accidents, Serious Injuries, Construction Site Accidents, Workers Compensation, Employment Law, Unpaid Bonuses, Product Liability, Elder Abuse, Landlord Tenant Law, Medical Malpractice, Immigration, Family Law, Probate, Insurance Laws, Bankruptcy, Criminal Defense, Real Estate Law, Contracts, Tax Laws, Worker's Compensation, Product Liability And More.
We will attempt to get you maximum recovery under the law.
For a consultation with the Offices of Vincent W. Davis & Associates,
call us at 888-506-6810 or contact us online.
Our offices are open 8 am – 8 pm, Monday through Friday, Saturday 9am – 5pm